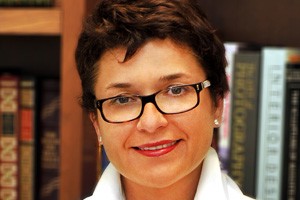 Lucia Zamorano, MD, FICS, Neurological Surgeon with her own practice, and affiliated with Beaumont Hospital Royal Oak, Harper-Hutzel Hospital, and the Michigan Surgical Hospital, has been named a 2017 Top Doctor in Birmingham, Michigan. Top Doctor Awards is dedicated to selecting and honoring those healthcare practitioners who have demonstrated clinical excellence while delivering the highest standards of patient care.
Dr. Lucia Zamorano is a very experienced neurosurgeon who has been in practice for more than three decades. Her acclaimed medical career began in her native Chile in 1980, when she graduated from Catholic University Medical School in the capital city of Santiago, where she also completed an internship and residency. Dr. Zamorano then moved to Germany, and completed a fellowship in Neurosurgery at the Free University of Berlin. After moving to the United States she completed a further fellowship at the Henry Ford Hospital in Detroit, Michigan.
Dr. Zamorano has an international reputation as a leading neurological surgeon, treating a wide range of conditions for patients of all ages. Conditions treated by her include spine disorders, acoustic neuromas, tumors of the brain and spine, pituitary tumors, and epilepsy. She is particularly known as an expert in minimally invasive brain surgery, skull base surgery, and spine surgery.
Alongside her practice as a neurosurgeon, Dr. Zamorano has enjoyed an acclaimed academic career. She currently serves as a Clinical Professor at the William Beaumont School of Medicine at Oakland University in Auburn Hills, Michigan, and has earned the coveted title of Fellow of the International College of Surgeons. She is also at the forefront of research into new neurosurgical techniques. Her undoubted expertise and important work in her field makes Dr. Lucia Zamorano a very worthy winner of a 2017 Top Doctor Award.
About Top Doctor Awards
Top Doctor Awards specializes in recognizing and commemorating the achievements of today's most influential and respected doctors in medicine. Our selection process considers education, research contributions, patient reviews, and other quality measures to identify top doctors
Direct link:  https://www.prnewschannel.com/2017/09/05/expert-neurological-surgeon-lucia-zamorano-md-fics-is-to-be-recognized-as-a-2017-top-doctor-in-birmingham-michigan-2/
SOURCE:  Top Doctor Awards