The Michigan Brain and Spine Surgery Center exclusively offers Robotically Assisted Endoscopic Spine Surgical Treatment in Michigan
Mazor Robotics
Consistently Accurate Spine Surgery with the Mazor Robot
Endoscopic Spine Surgery is the most minimally invasive approach to discectomy and foraminotomy available. With the Mazor Robot, it is also the most precise spine surgery available. The Mazor Robot allows for Dr. Zamorano and her team to determine the best possible placement of the scope for your surgery, and the robot ensures perfect placement for every procedure. When it comes to your spine, Dr. Zamorano and her team at the Michigan Brain and Spine Surgery Center are proud to offer you the latest and safest technology available.
Benefits of the Robotics Endoscopic Spine Surgery:
Less Radiation
Small incision
Shorter Hospital Stay or Outpatient Surgery
Higher Precision
Less Pain and Discomfort
Fewer Complications
Faster Return to Daily Routine
Contact Michigan Brain & Spine Surgery Center to Find out if Robotically Assisted Endoscopic Spine Surgery is right for you! – Call for a Consultation 248-723-2477.
Spinal Fusion with Mazor Robotics
What is spinal fusion?
Spinal fusion is the process of two or more vertebrae fusing together, immobilizing them to create a single continuous bone. It is used to treat broken vertebra, a spinal deformity, spinal weakness, spinal instability, or chronic low back pain.
What type of surgery is needed for spinal fusion?
Surgeons sometimes perform this procedure in open surgery, creating an incision that provides a direct line- of-vision to the vertebra, which simplifies the process of inserting the bone graft and implants. However, this also results in damage to surrounding healthy tissue, large scars, and postoperative pain.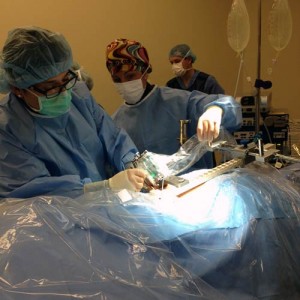 Minimally invasive surgery (MIS) uses smaller incisions and usually results in less postoperative pain and faster recovery. However, MIS requires many intraoperative X-rays to compensate for the surgeon's lack of direct line-of-vision, which usually makes it less accurate than open surgeries.
Mazor Robotics technology enables surgeons to overcome these limitations and perform precise spinal fusion with minimal radiation.
What are the advantages of spinal fusion with Mazor Robotics technology?
Mazor Robotics technology guides the surgeon's tools and implants in both open and minimally invasive surgery (MIS), while ensuring the highest levels of accuracy of implant placement. It decreases soft tissue trauma, preserving surrounding healthy tissue. This results in fewer complications, less blood- loss, minimal scars, less pain, faster recovery, and quicker return to daily life.
With Mazor Robotics' system the surgeon requires fewer intraoperative images, which means less radiation exposure for the patient and the surgeon.
Did you know?
Back pain is the leading cause of disability between the ages of 19 and 45 and the second most common cause (after headaches) of missed work days.
Ask Dr. Zamorano if Mazor Robotics Spine Surgery is right for you. Call for a Consultation 248-723-2477.
"Dr. Zamorano and the Michigan Brain and Spine Surgery Center staff were there for me and my family in our time of need. Since the surgery, I have little to no pain. So far, I am able to move parts of my body that were numb. I am still in the beginning stages of healing, but I'm looking forward to making a full recovery and having full mobility of my spine." – Yochance Farmer, Detroit, MI