Michigan Brain and Spine Surgery Center is pleased to announce that Dr. Lucia Zamorano performed the first Endoscopic Lumbar Fusion in Michigan using Rise IntraLiF system of Globus Medical. "We are able to perform a lumbar fusion through an 8.5 mm cannula using endoscopic visualization; with the expandable cage we can restore the disc height with a controlled distraction and optimal fitting", explains Dr. Zamorano. Endoscopic Lumbar Fusion is the most Minimally Invasive Spine Surgery technique to perform a fusion and "it will revolutionize and change the ways we do fusions, minimizing the approach, causing less damage to normal structures and improving the biomechanical construct with better patients outcomes" Dr. Zamorano adds.
RISE®
RISE® is an all titanium expandable lumbar fusion device which minimizes insertion force, provides controlled distraction and optimizes endplate-to-endplate fit.
Minimal impaction: Contracted insertion height eases insertion into the disc space, to help reduce musculoskeletal disruption and the amount of nerve root retraction required
Controlled disc height restoration: Controlled continuous expansion and distraction is designed to restore disc height and reduce the risk of over-distraction
Optimized fit: When expanded in the disc space, the implant optimizes endplate-to-endplate fit
RISE® IntraLIF®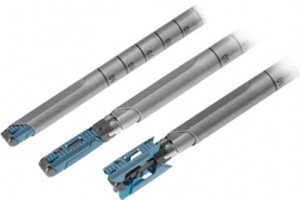 RISE® IntraLIF® is an innovative expandable lumbar fusion device that achieves traditional fusion goals through an 8.5mm inner diameter cannula.  By leveraging endoscopic access and visualization through the IntraLIF® procedure, the RISE® implant expands in situ to distract and optimize fit.
Minimized Anatomical Disruption
Protected Corridor Past Nerve Roots
Optimized Disc Access
Improved Implant Placement