The 24th Annual Nightingale Awards for Nursing Excellence 2012 honoring exemplary nurses and nursing care since 1988.
On May 10, the San Marino Club in Troy hosted the 24th Annual Nightingale Awards for Nursing Excellence to publicly recognize contributions of remarkable nurses. The even supported Oakland University's School of Nursing.
The tradition of honoring Michigan's top nurses began 24 years ago, at the urging of Maggie Allesee, an Oakland University School of Nursing long-term Board of Visitors member and philanthropist. The first year, honorees were selected by placing the names of potential winners in a hat. This process has been honed, and today a committee of nearly a dozen nurse leaders within the community read and score more than 100 nominations.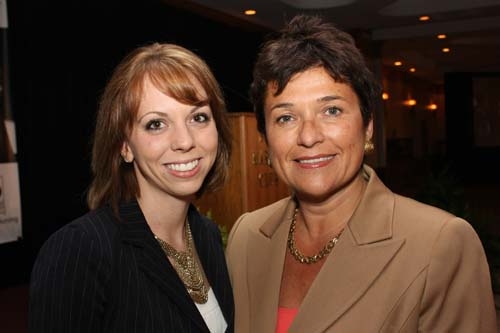 Lindsay Gietzen, PA and Dr. Lucia Zamorano
Hundreds of hard-working, heroic, and honorable nurses from around Michigan, Ohio, and Canada have been lauded at the Nightingale Awards for Nursing Excellence.
Proceeds from the event, referred to as the Academy Awards of Nursing, benefit students through scholarships and faculty through research support, and they ensure that nursing education remains on the cutting edge — which will improve the lives and safety of the patients and their families with whom nurses work.
New this year, Hour Detroit magazine will be the media sponsor of the event and will also sponsor the People's Choice Award. With Hour Detroit's sponsorship, the presentation of this award will vary slightly from the other award categories. For the People's Choice Award, the selection committee will select the top three honorees and the winner will be announced at the Nightingale event, rather than ahead of time. We are excited about our partnership with Hour Detroit magazine.
"This prestigious event not only honors the intelligent and inspiring men and women in nursing; it also raises needed funds for scholarships and up-to-date equipment to adequately prepare future nurses, so they can provide their patients with the highest-quality care." Maggie Allesee, Oakland University School of Nursing Board of Visitors and founding member of the Nightingale Awards.