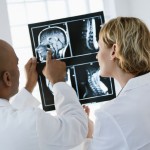 Three-fourths of patients with Alzheimer's disease or frontal-lobe degeneration had MRI-detected biomarker levels that correlated with the diagnoses, suggesting MRI has potential as a screening tool for the conditions, investigators reported.
MRI-predicted values for total tau and β-amyloid ratio (tt/Aβ) in gray matter correctly pinpointed the diagnosis in 75% of patients with genetically or neuropathologically confirmed diagnoses, according to Corey McMillan, PhD, of the University of Pennsylvania in Philadelphia, and colleagues. Predicted values also had good correlation with actual tt/Aβ measured in cerebrospinal fluid (CSF), they said.
The findings are consistent with previous in vivo and autopsy studies of CSF tt/Aβ, the group reported in the Jan. 8 issue of Neurology.