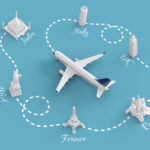 For those who live with chronic pain, daily tasks like cooking, cleaning, and showering can be difficult and exhausting. So traveling by air, ground, train, or water requires extra planning and precautions. But that doesn't mean you shouldn't travel to see more of the world.
Often, chronic pain is invisible to those on the outside, which can make interactions difficult, especially when it flares without warning. This can include anything from arthritis or fibromyalgia to lyme disease. Just because others can't see it doesn't mean you don't feel it.
We've put together a guide on how to travel if you're living with chronic pain – which can be tension headaches, back or hip pain, knee replacements, and complications from surgery. We'll cover what to pack, questions to ask, and much more.
Before the Trip: How to Pack for Travel When You Suffer From Chronic Pain
Giving yourself extra time to pack for traveling when you have chronic pain will help you prepare for your journey, and reduce stress because you'll know you have everything you need to manage it.
Be sure to fill your prescriptions well before your trip, and have enough with you for the duration of your time away. Pack them in your carry-on bag (never in your checked luggage!) and put it within quick reach. Consider taking a small bag to carry with you throughout your entire journey, so they'll always be close at hand.
Pack other helpful items like a heating pack, a neck pillow for long flights or train rides, and a good pair of shoes if you plan to do a lot of walking or sightseeing on your trip. Bring along a note from your doctor explaining your condition, and a list of the medications you're taking, in case you need to show it for medical assistance or to get through the TSA checkpoint at the airport.